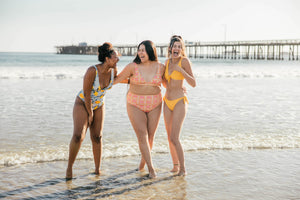 We're on a mission to make swimsuit shopping actually fun!
Welcome to Kitty and Vibe!
Our mission is to awaken and fuel self-love for a kinder world. We believe the ability to feel self-love is within everyone, and a great fitting swimsuit can manifest that feeling.
Better Fitting Bikinis
We are the first and only brand to make bikini bottoms based on your butt size. 
Our sizing metric offers two butt size options for every hip size. You'll never have too much or too little fabric, and always the perfect fit.
Take Our Fit Quiz
Co-Create With Us
Kitty and Vibe products are made by us, but designed by YOU. Through social posts and email surveys, your vote chooses what we launch next.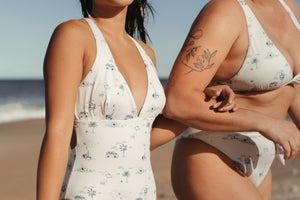 Vibe With Us
"Vibes" are what we call our prints – complete with a matching persona and mood-boosting playlist to make your swimsuit feel more like a friend.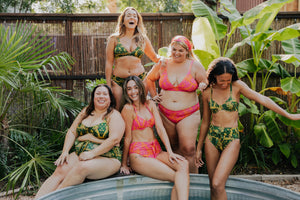 Celebrate With Us
We believe every body is a bikini body. We celebrate real customers and superfans and feature them in every launch.
Model For Us
Apply to be featured in our next campaign. No modeling experience is required – we actually prefer it that way.
Apply to model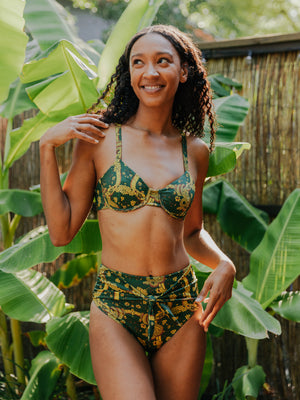 Brittany
I loved my experience modeling! Music was on point, the people were so genuine, and I felt very safe the whole time.
Rachel
I felt safe and comfortable and empowered to rock the swimsuit just as I am.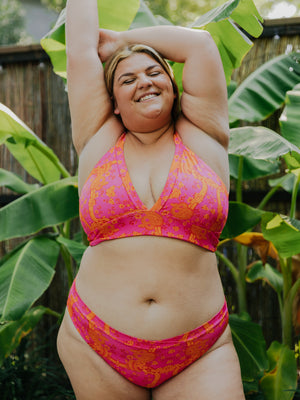 Angelle
As a plus size gal and shy at first, never did I feel out of place. The energy was amazing and left me feeling like I'm the main character.
Kind Is My Vibe™ is our daily reminder to be kind to yourself, your body, and others.